‍
Richard Helms was slippery - even for a spy, as novelist Thomas Mallon observed. 
When the former CIA director faced the Senate Watergate Committee, Helms pummeled the table angrily: "It doesn't seem to get across very well for some reason but the Agency had nothing to do with the Watergate break-in," he bellowed. The fact that five of the seven burglars arrested in the Watergate complex in 1972 had ties to the CIA was immaterial - at least in Helms' opinion. The Agency had no involvement, he repeated loudly for the benefit of the newsmen at the back of the room.
The appearance was vintage Helms, the master of charm-and-disarm, a silky operator described by biographer Thomas Powers as a 'gentlemanly planner of assassinations'.
‍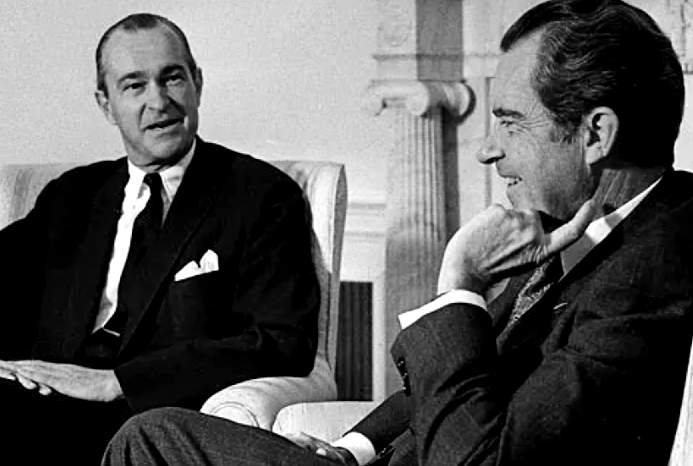 Richard Helms: Charm and disarm‍
Helms, a naval officer born in Philadelphia and educated in Switzerland and Germany, climbed the greasy pole of intelligence from the Office of Strategic Services (OSS) in WWII to become director of the CIA from 1966 to 1973 - finally pushed out by President Richard Nixon, who'd resign in disgrace himself a year later. 
As Helms rose, he oversaw clandestine operations, served five US presidents, and met CIA officer and Watergate burglar-in-chief Howard Hunt in 1950s Havana, a city Hunt described as "a mafia-riddled, spy-infested, booze-addled, women-crazy city with the world's best nightlife".

Helms and Hunt remained in touch in the decades leading up to Watergate, lunching three to six times a year when Hunt worked state-side. Yet Helms had given US Senators the impression he barely knew the Watergate burglar. The CIA director couldn't even put his finger on the details of his encounters with Hunt when pressed.

Was it a polished act or an honest oversight by a man who had his finger in many pies? Helms not only edited the formal National Intelligence Estimates for the White House, but as CIA director he administered an annual budget of $1bn, employed 15,000 staff, and monitored covert activities across 80 countries. Helms' memory may well have failed him. 
Helms' tango with Hunt and Watergate would bring the spymaster to the brink but it was an entirely separate covert operation that would prove to be Helms' undoing.
‍