Hollywood's spotlight is on mafia women following the release of Melissa McCarthy's The Kitchen, about '70s New York mob wives. Jennifer Lopez is starring in the upcoming drug lord drama The Godmother while Jennifer Lawrence is headlining Mob Girl, the real-life story of a woman growing up in the flashy underground world.

Can a gangster-inspired fashion line be far behind?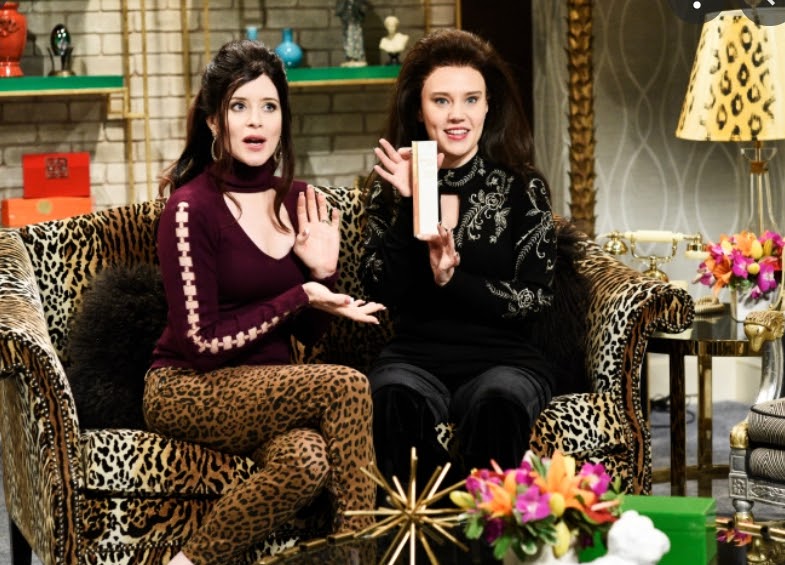 SPYSCAPE rummaged through the closets of a few golden-era gangster divas to uncover their style secrets, classic looks, and fashion crimes. (Warning, there are also a few plot spoilers ahead!)

Sharon Stone, Casino (1995)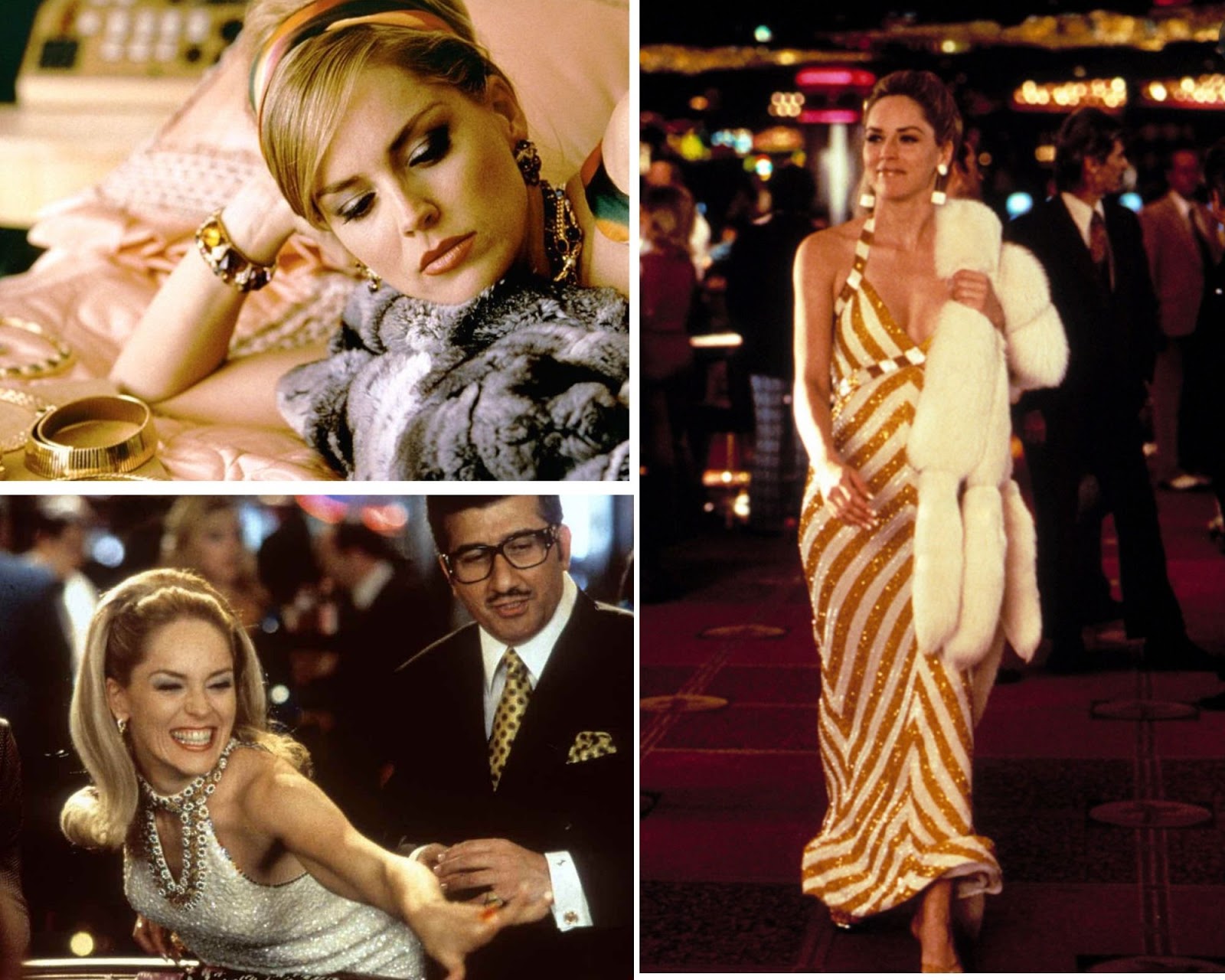 Even style bible Vogue still gushes over Sharon Stone's showgirl chic. Stone prepared for her Casino role by meeting with underworld characters who knew 'Ginger' (based on Las Vegas showgirl Geraldine McGee), even arranging shadowy meetings on street corners. Ginger's style secrets were forensically researched by costume designers Rita Ryack and John A. Dunn (reportedly with a $1m budget) to replicate the glitz of the post-Hippie 1970s. Did Stone get to keep the wardrobe?: "The only thing I took was a Pucci jacket, the one that Ginger dies in, ironically."

Elvira Hancock, Scarface (1983)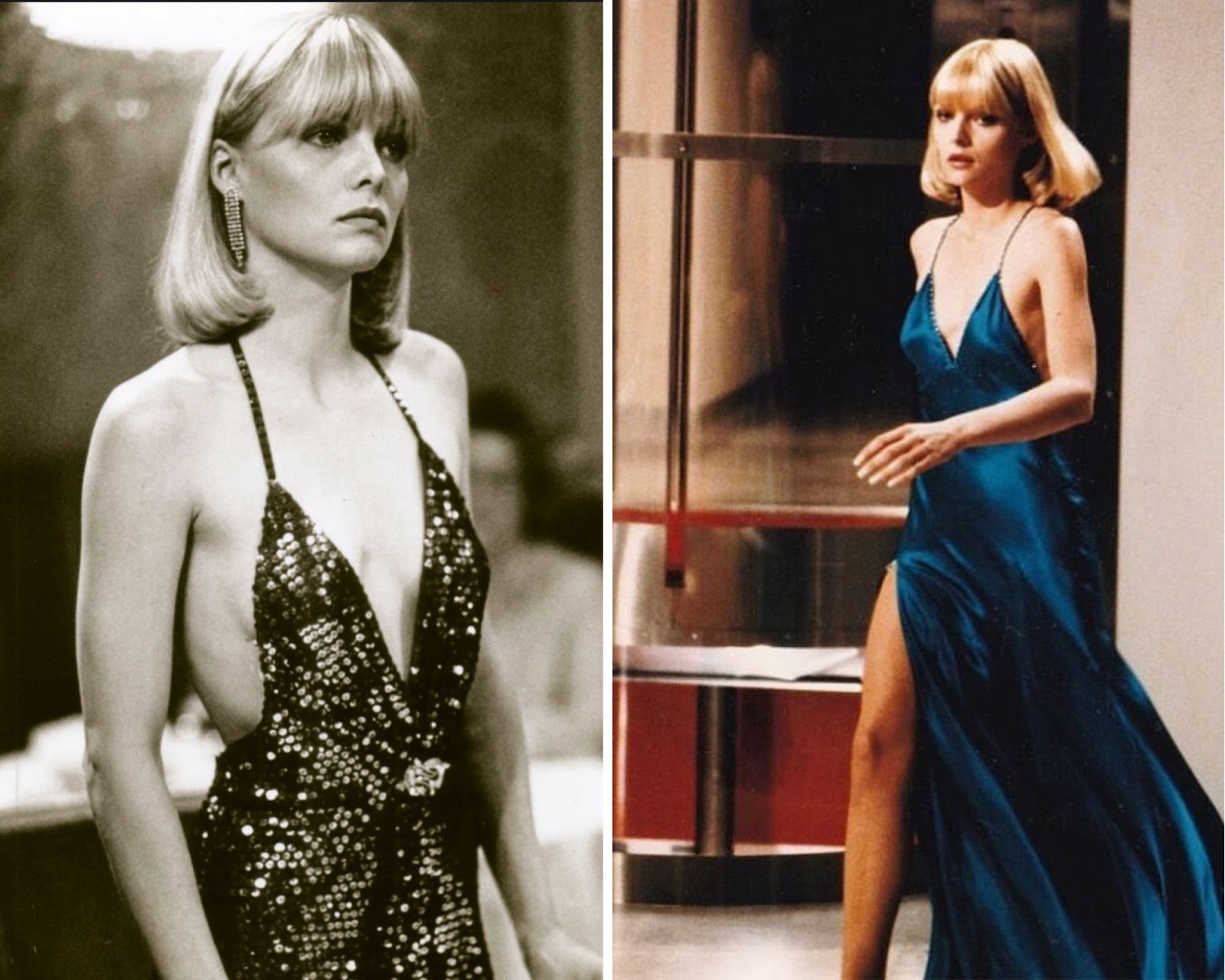 Elvira Hancock (Michelle Pfeiffer) unveiled one of the most iconic wardrobes ever seen in a gangster film. Her slinky 1980s slip dresses, drop earrings, and immaculate suits still inspire fashionistas. Pfeiffer had to maintain a svelte physique to convincingly portray a cocaine addict and it wasn't easy. Pfeiffer told New York City's Tribeca Film Festival she lived on a diet of tomato soup and Marlboro cigarettes to become more emancipated as the movie progressed: "The problem was the movie went six months. I was starving by the end of it."

Angela de Marco, Married to the Mob (1988)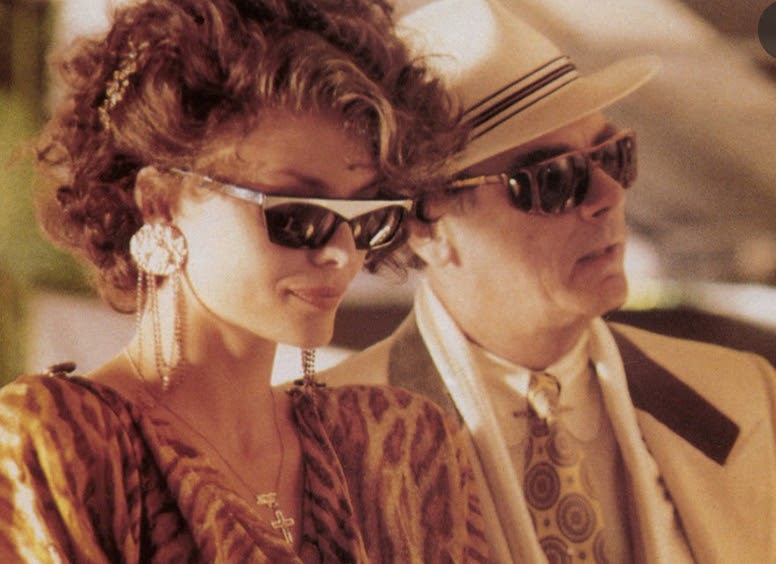 Pfeiffer steals the movie again in Married to the Mob as the wife of a Long Island mafia don with a bling style - think '80s cinched belts, animal prints, and teased hair. Pfeiffer scored a Golden Globe nomination but admits director Jonathan Demme rolled the dice when casting her: "I don't know if the studio strong-armed him into casting me, but he trusted that I could do it. I just slipped right into that character," Pfeiffer told IndieWire.
‍

Kay Adams-Corleone, The Godfather Trilogy (1972-1990)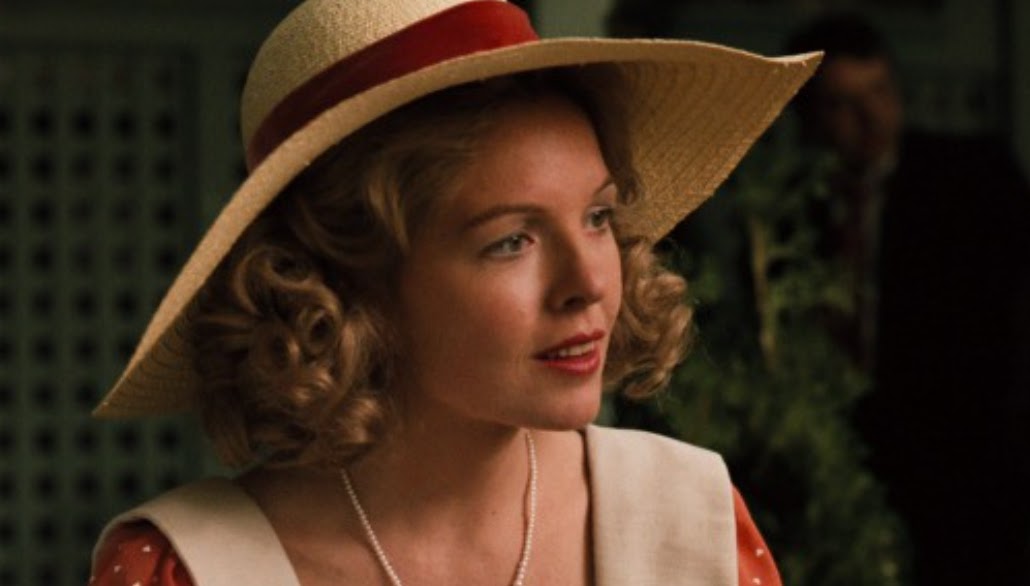 Even style icon Diane Keaton (above)  is astonished at how gorgeous The Godfather (1972) still looks decades later: "I saw it on my computer. I hadn't seen it for, I think, about 30 years," she told the Tribeca Film Festival. "And I looked at it, and I just remembered all the people. I couldn't handle it. It was so astonishing. It was so beautiful, and everybody is so great in it, and the music, and every choice [Francis Ford Coppola] made…" 

Adriana La Cerva, The Sopranos (1999 -2006)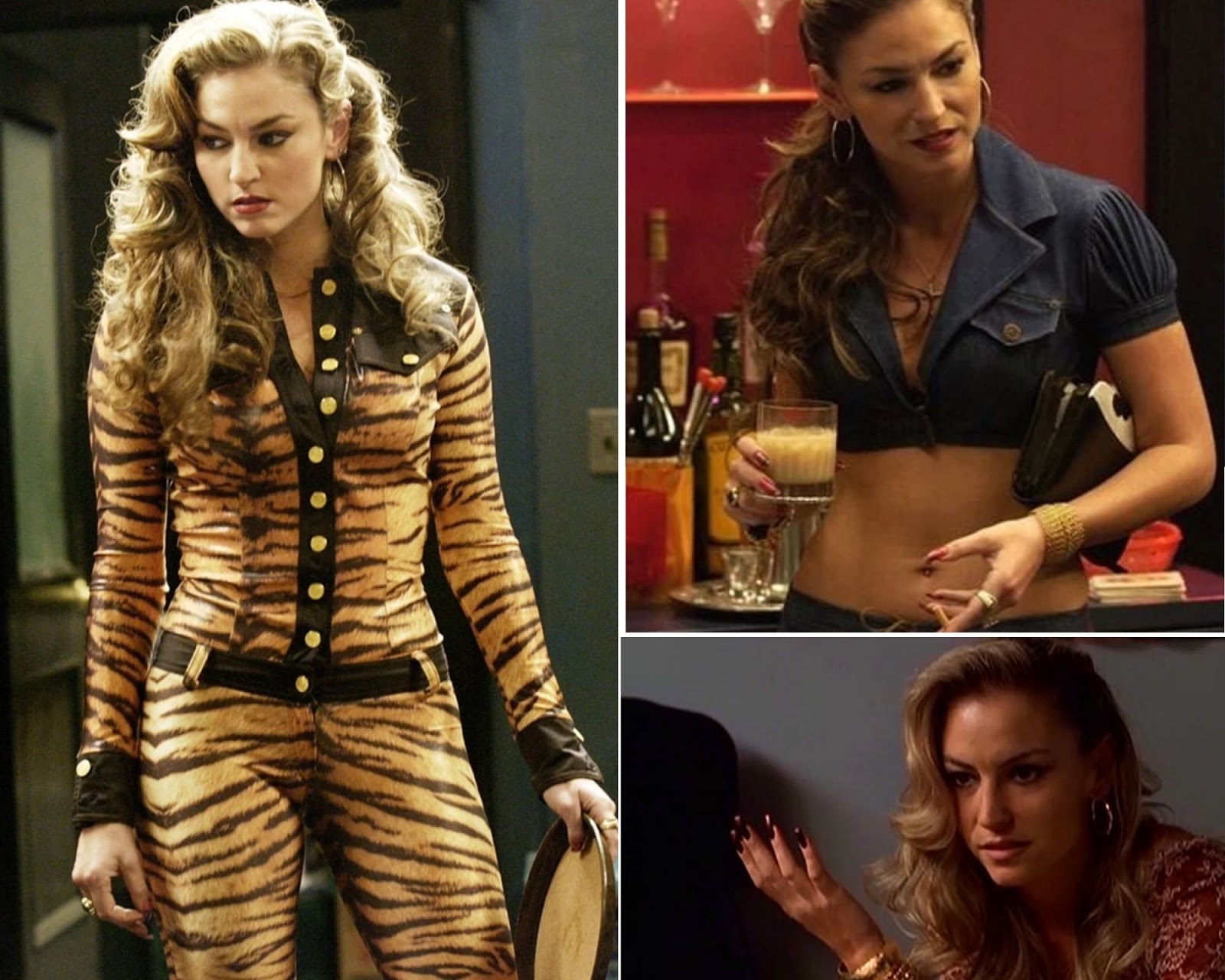 The Sopranos' Adriana La Cerva (Drea de Matteo) has never met a tiger stripe, leather dress, or a pair of stilettos she didn't like. Blood red Louis Vuitton nails and a gold crucifix necklace ramp up her fashion statement. Adriana's gold-buttoned catsuit may not have saved her life, but it cemented her fashion legacy. "I couldn't get into character for Sopranos unless my nails were completely manicured," de Matteo told Esquire. "I couldn't get into character if my hair wasn't as big as it was when you would see it. I could never say my lines without my stiletto heels on."

Carmela, The Sopranos (1999-2007)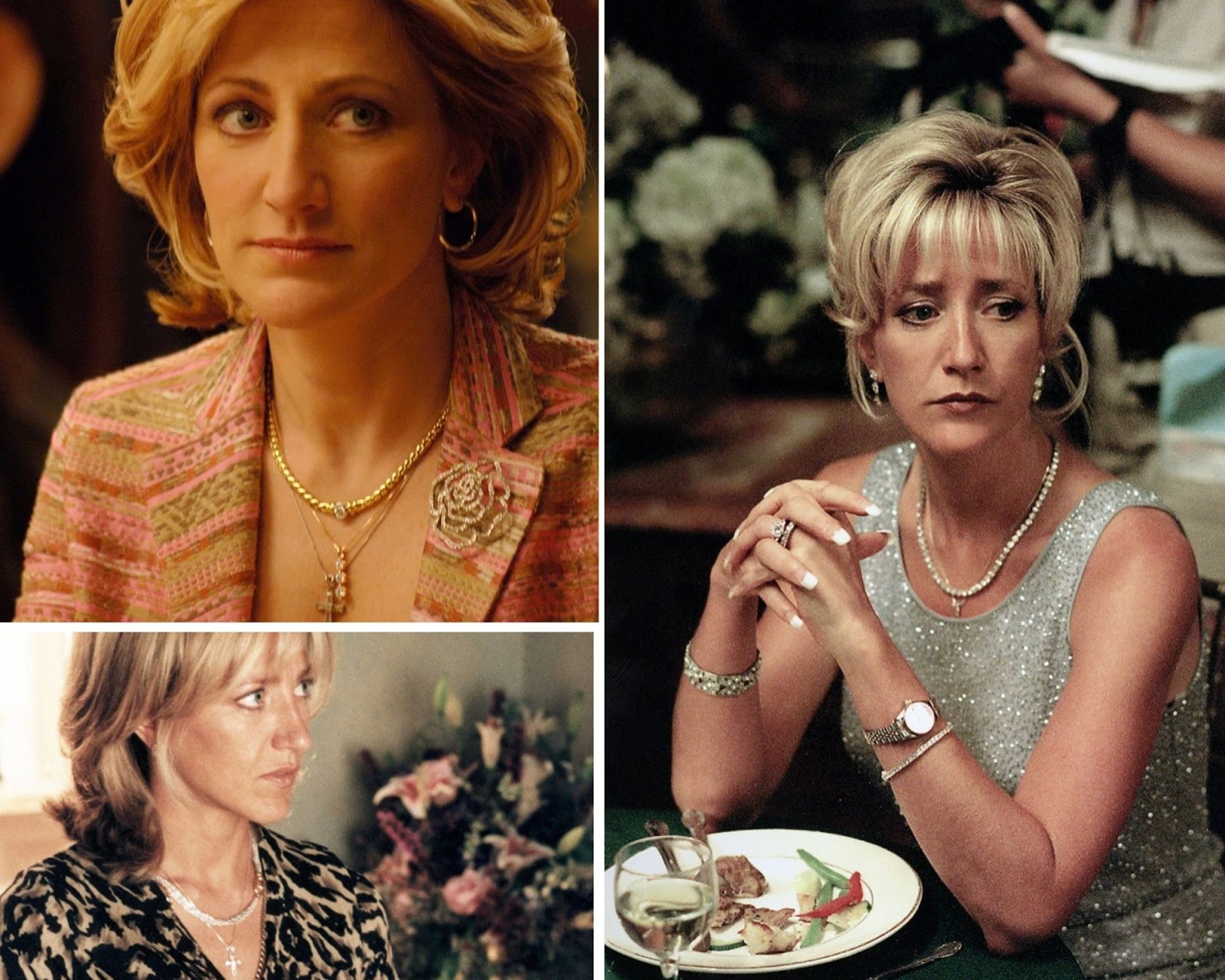 When Carmela Soprano (Edie Falco) dresses up she lets her jewelry do the talking - and, of course, her perfect, pink and white acrylic nails, the one constant throughout her roller-coaster marriage to mob boss Tony. The Sopranos' manicurist, Maria Salandra, designed Carmela's nails specifically for her character - Adrianna and the Bada Bing! strippers have their own signature nail designs too - but it's the one thing Falco doesn't miss about The Sopranos: "No more scary hands!" Falco said, recalling Carmela's Jersey claws.

Ginny Sacrimoni, The Sopranos (2001-2007)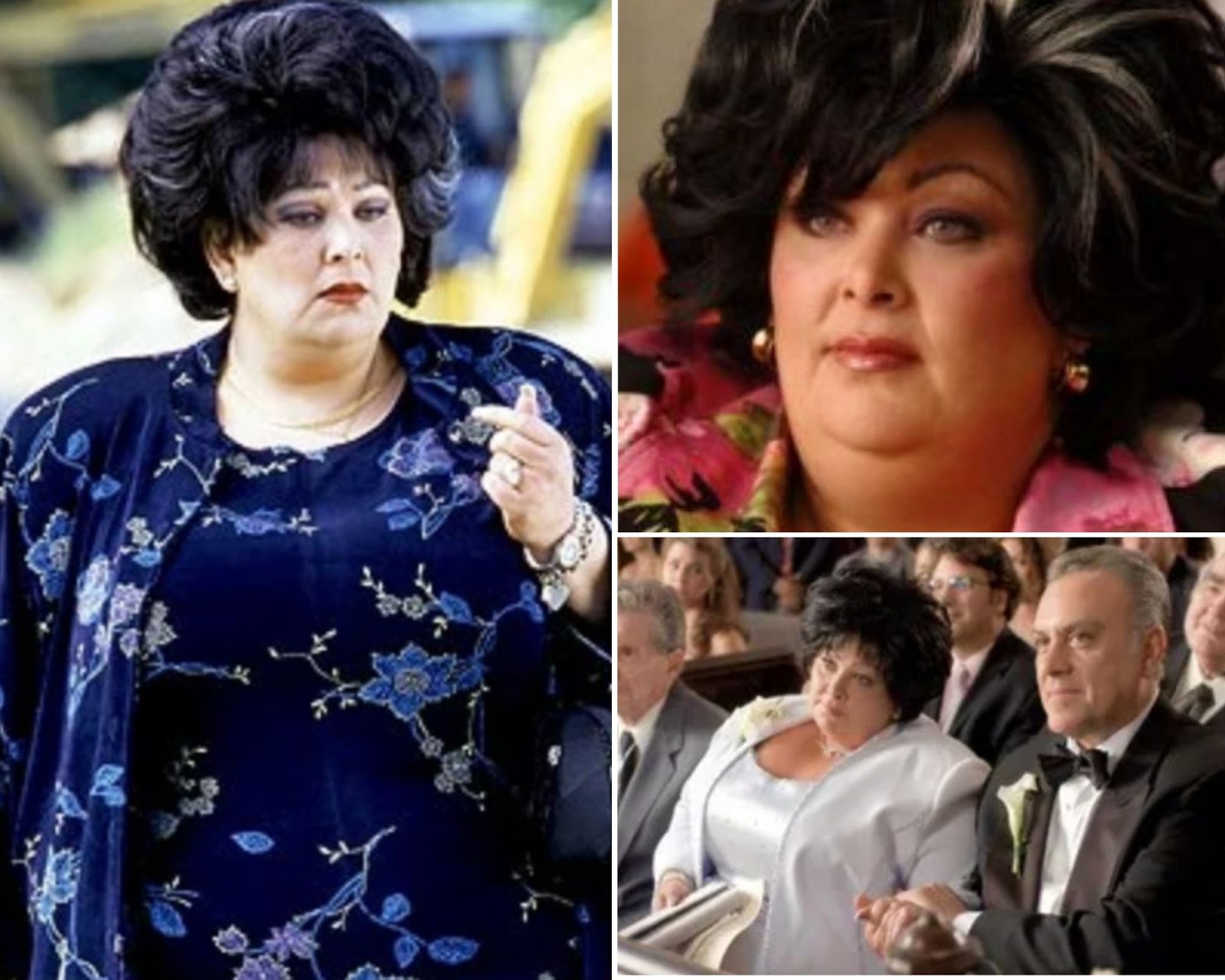 Ginny Sacrimoni (the late actress Denise Borino-Quinn) was perfectly coiffed from her frosted bouffant hair-do down to her designer heels, a style befitting the wife of New York mob boss Johnny Sack (Vincent Curatola). Borino-Quinn beat 14,000 actresses to win the part after an open casting call: "To this day, I still can't believe this happened to me," she said just before her death in 2010.

Karen Hill, GoodFellas (1990)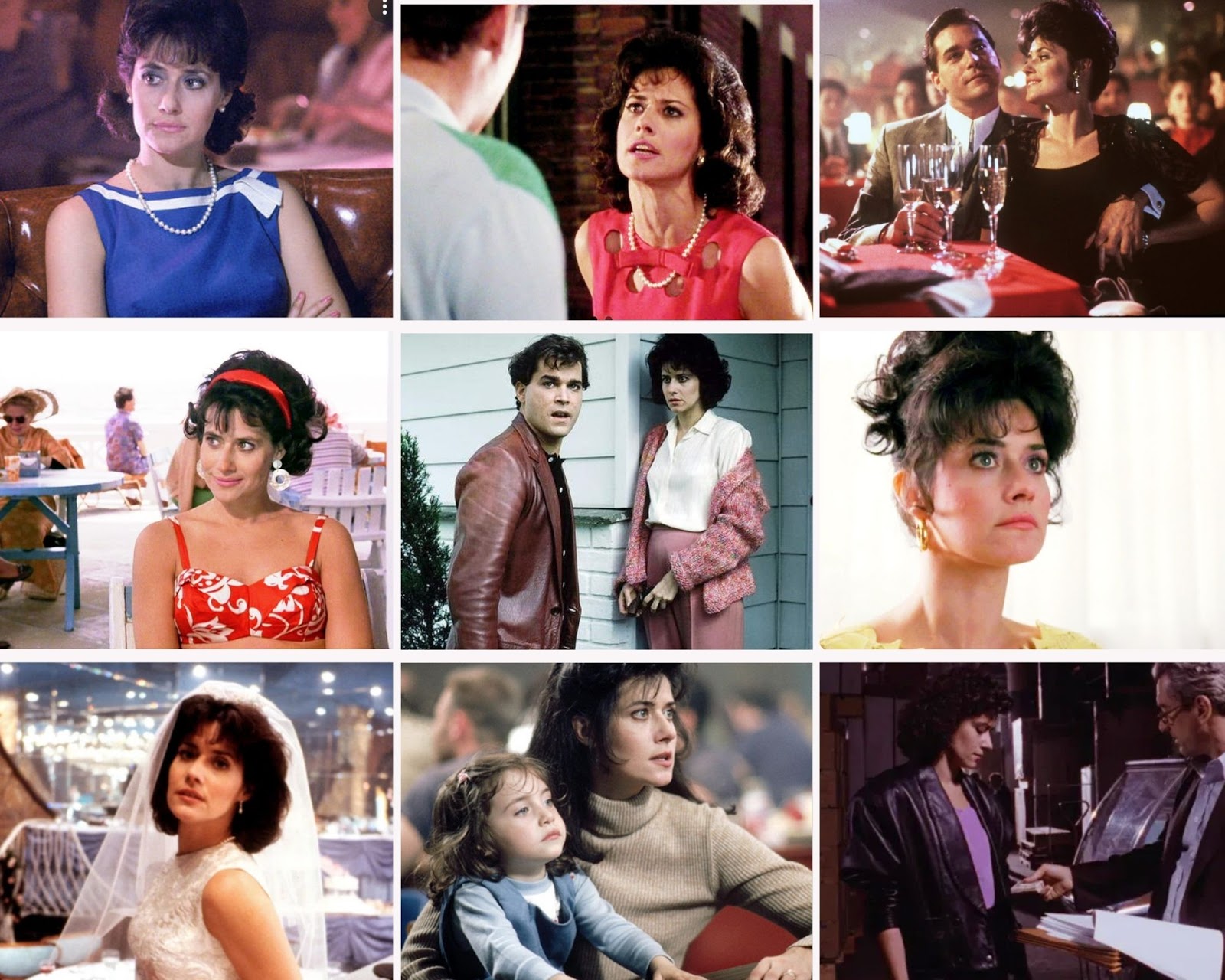 Karen Hill (Lorraine Bracco) graduates from her country-club-with-pearls style to black leather-clad mafia wife in GoodFellas, stashing a pistol in her knickers along the way. Fashion was a big part of the character - even director Martin Scorsese helped select the blue dress Karen wore for her blind date with Henry (Ray Liotta). "In the next scene, when Karen confronts Henry for standing her up, her dress is a really hot pink," Bracco said. "We wanted her to stand out, so her dress had to be as hot as the scene." Bracco later pushed for leather. "Karen was dealing drugs… and I thought a black leather outfit would make a lot of sense for her character. She wasn't the same lovely little girl anymore."


Sandy, GoodFellas (1990)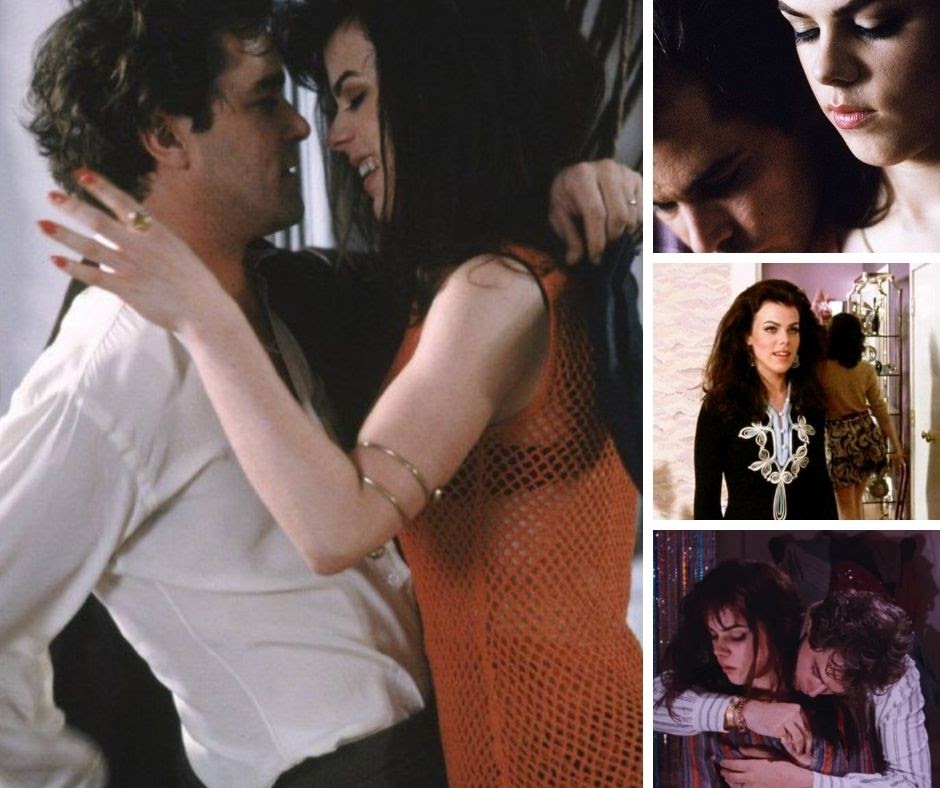 As anybody who's watched GoodFellas knows, Saturday nights are for wives. Friday nights are for 'goombahs', mob mistresses like poofy-haired cocaine addict Sandy (Debi Mazar). With her nose freshly powdered, an increasingly disheveled-looking Sandy tries to keep up appearances with fake eyelashes, full make-up, and black lingerie paired with a tangerine mesh dress. Mazar likes her characters to have a distinctive style, dipping into her own jewelry box when necessary. For Goodfellas, she wore her own gold waist chain, arm cuff, gold hoops, and ring to match her gold fingernails when Sandy cut cocaine with playing cards.

Camila Vargas, Queen of the South (2016-2018)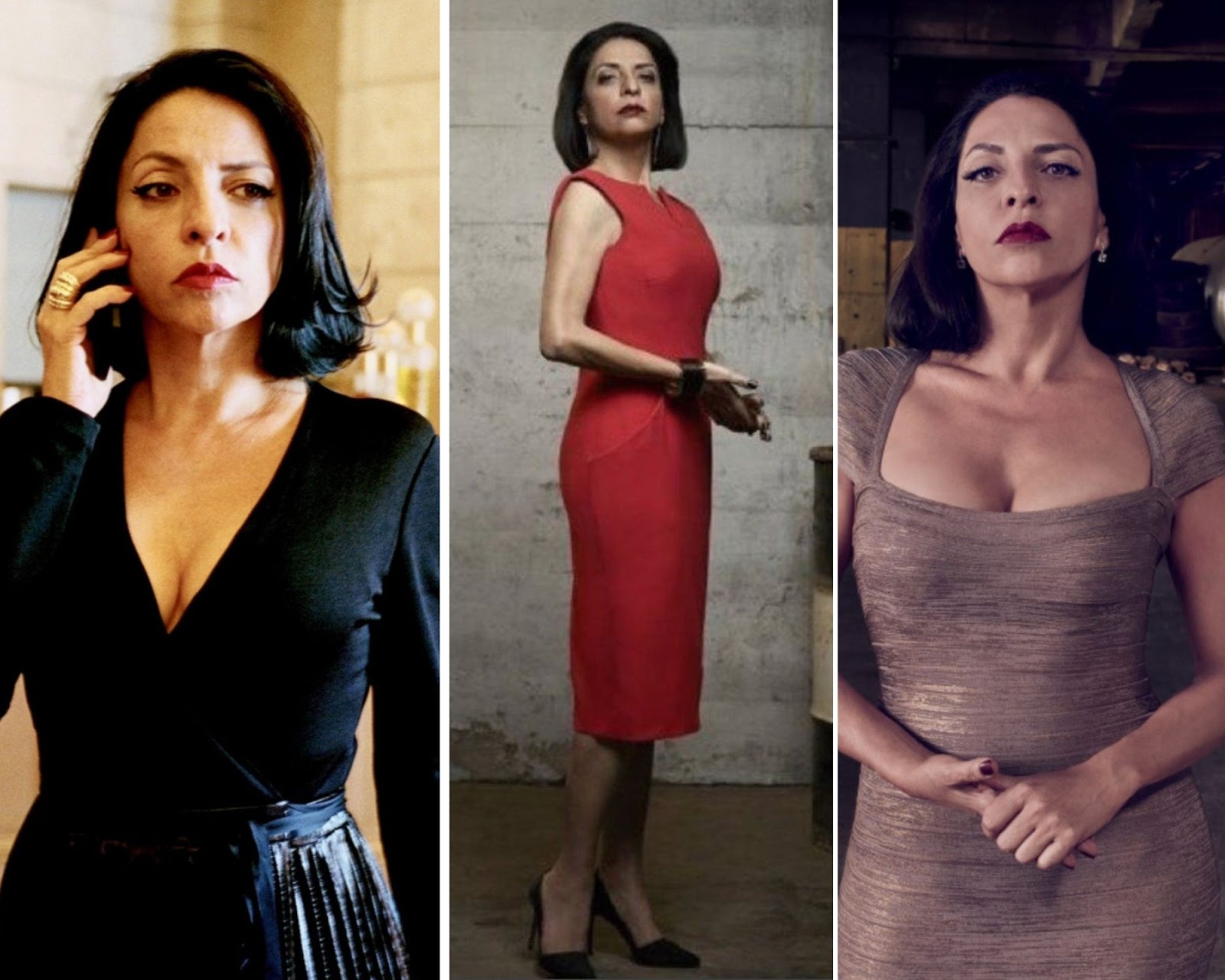 Camila Vargas (Veronica Falcón) isn't a mob wife or a girlfriend, she's the head of a Mexican drug cartel - a no-nonsense operator and sleek power-dresser. Falcón moved from Mexico to Los Angeles when she was 50 to land better roles - not the traditional route to Hollywood success, but Falcón's not a traditional actress. She's a style icon on and off camera, winning a rave review from PopSugar in 2020 for her Dolce & Gabbana crepe blouse and satin corset teamed with Christian Louboutin Uptown 100 leather pumps. 

Anna Morales, A Most Violent Year (2014)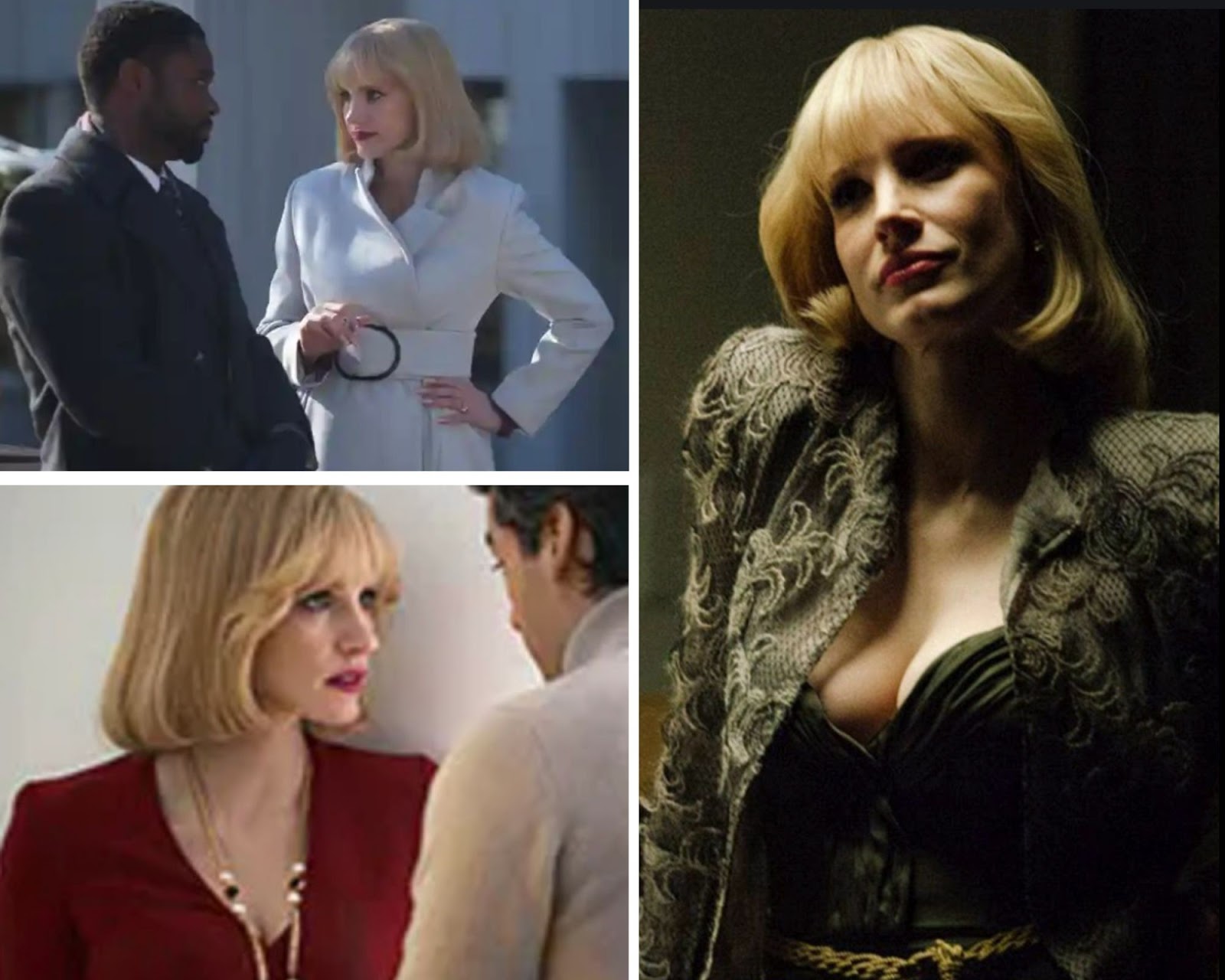 Anna Morales (Jessica Chastain) is all about Armani. The star and designer worked together creating the wardrobe for Anna, the wife of Abel Morales, who is dealing with the Teamsters' union and trying to protect his business from New York corruption. Anna is the glamorous center of his life. "Anna's clothes are her armor," Chastain explains. "She uses them strategically in her life and uses all of her assets to direct the outcome in her, and her husband Abel's, favor. She wants to be the most powerful, most revered woman in the room." Her ice-colored trench coat was designed to send a message, Giorgio Armani said: Anna doesn't care about getting her hands dirty, she's fierce, elegant, and untouchable.