When Morgan Freeman suggested we question reality, his cunning deepfake video set Twitter's nerves on edge - mainly because Freeman didn't actually appear in the video.

Deepfakes - digitally altered video and audio - have been around since about 2017 and they've come a very long way.
From a faux Keanu Reeves to Steve Buscemi as Jennifer Lawrence, we compiled 15 unnerving celeb deepfakes to introduce you to the era of synthetic reality with a few tips about how to detect forgeries.
‍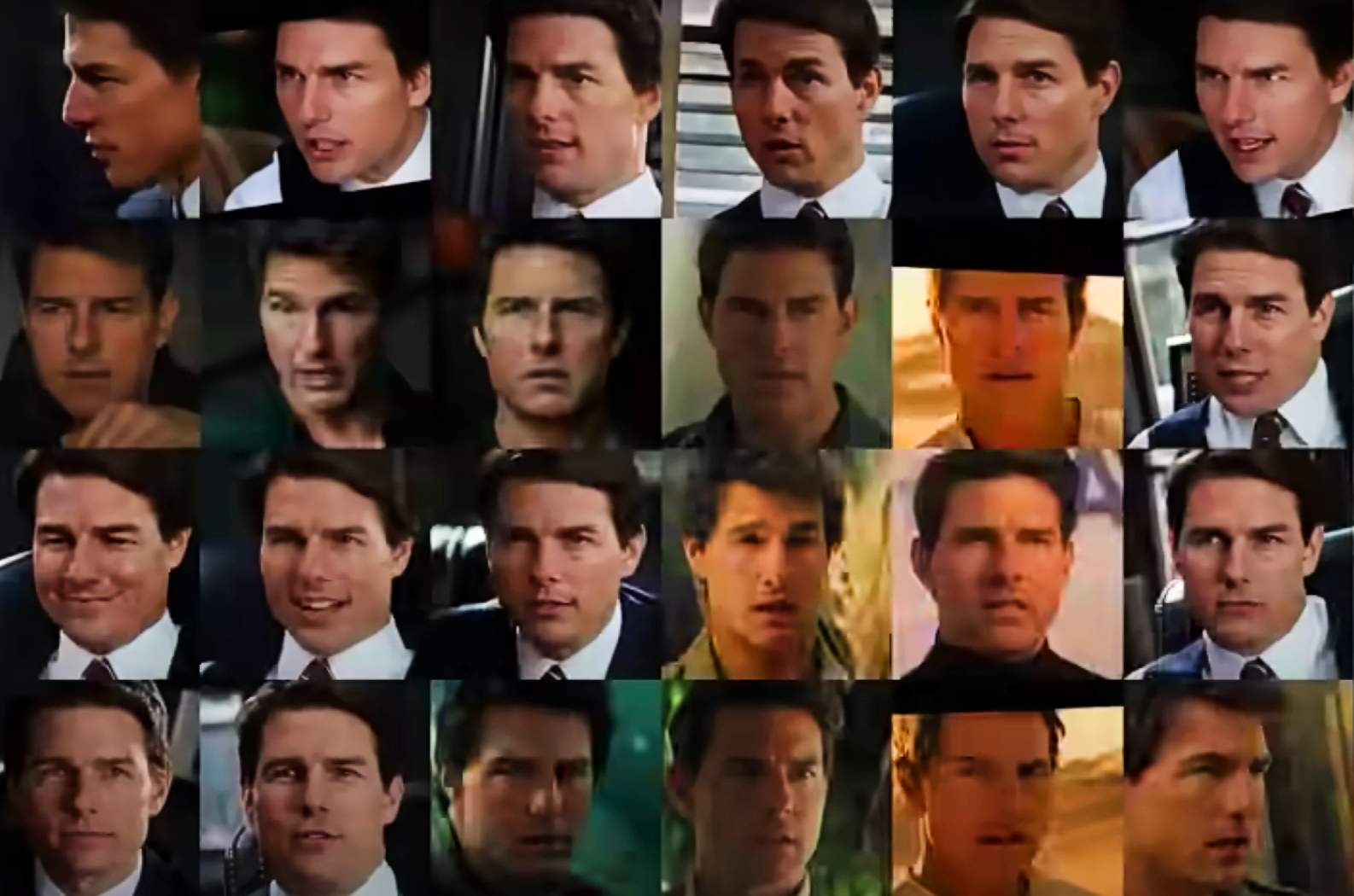 Tom Cruise Deepfakes‍
Much like Tom Cruise's Mission Impossible stunts, deeptomecruise deepfakes have a shock-and-awe impact. Can you spot the 'tells' that indicate actor Miles Fisher is really behind the pratfalls and stunts? Fisher nailed Cruise's wildly entertaining laugh and expressions - so much so that even Fisher did a double take: "I'll never forget the moment I first saw one of my videos deepfaked with my face replaced by Cruise's. The lighting wasn't uniform and there was a minor glitch behind the eyes, but the effect was still astonishing." If you look closely, you'll see moments where Fisher's eyes and mouth glitch for a second, but you'll need to stay sharp. 
‍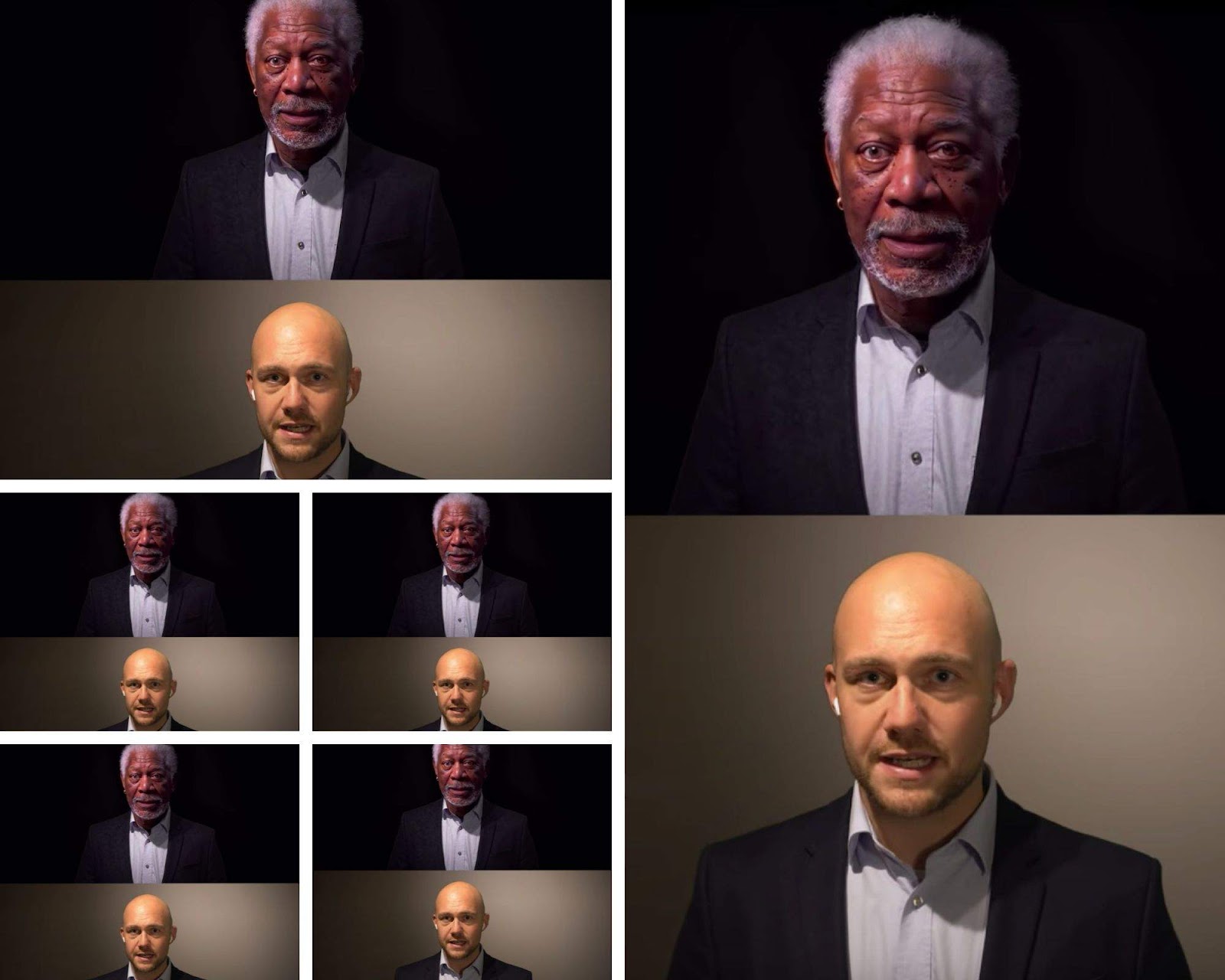 ‍
Morgan Freeman Deepfake

The Morgan Freeman Deepfake owned the Internet in 2022. Dubbed 'the most realistic deepfake ever', the uncanny resemblance to Freeman is terrifying and mesmerizing. The voice is that of Dutch voice actor Boet Schouwink. Watch closely as Fairchild says what you are seeing 'is not real' and announces the era of 'synthetic reality'. One Twitter user insists he's discovered the nuance that proves this is a deepfake: "His facial expressions are not those of the real Morgan Freeman." Hmmmm. We're not so sure…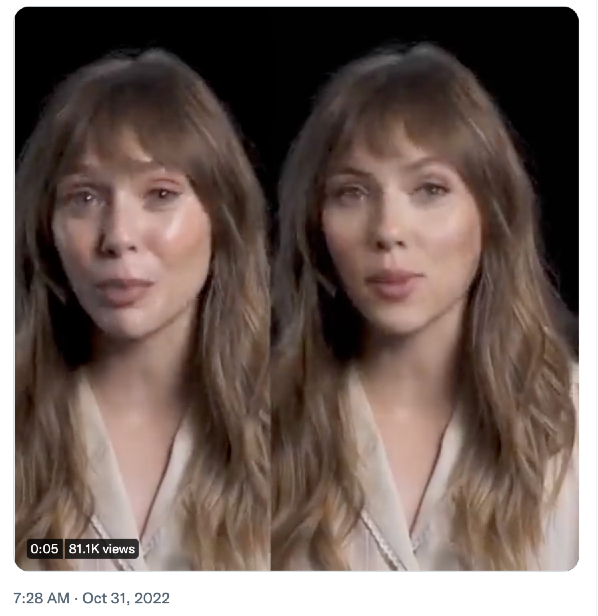 ‍
Elizabeth Olsen vs Scarlett Johansson Deepfake‍
Who is real and which actress is a deepfake in this Scarlett Johansson vs Elizabeth Olsen challenge? Some Twitter viewers couldn't decide which of the side-by-side videos were AI-generated. Hint: have a look at the area where the bangs fall on Scarlett's face, making it look like she has a double eyebrow. Some of the shadows are also askew. (Answer: the video on the right is fake.)
‍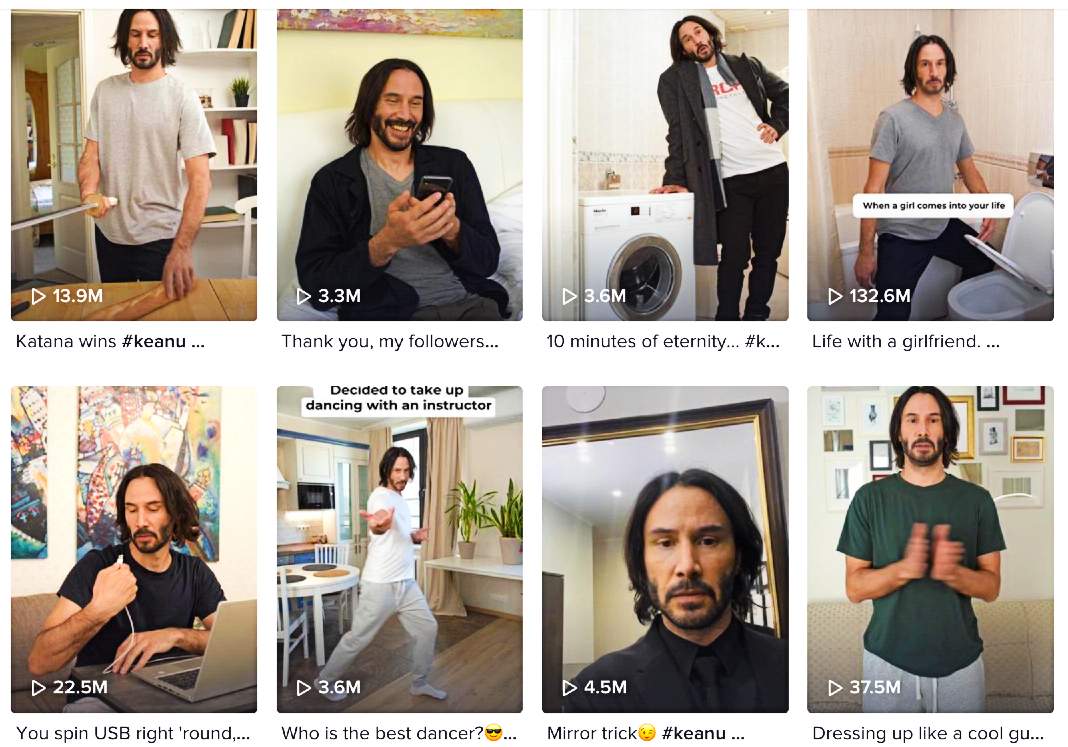 TikTok's Unreal Keanu Reeves
Even a deepfake parody account has fans! TikTok's Unreal Keanu Reeves has around 9m followers and its likeness to the real Keanu Reeves is a bit unsettling. The John Wick doppelganger invites us into his home where he dances, cracks jokes, makes references to his famous movie roles and shares his dating tricks. "This dude looks more like Keanu than Keanu does now," one user joked.
‍