A World Cup mystery has held the world in thrall since March 1966 when the FIFA trophy was stolen from a church hall just four months before the championships in a heist worthy of The Italian Job. 
London's famous Scotland Yard detectives had few clues to go on - although there were reports of a thin man in his '30s, with greasy hair and possibly a scar who was lurking about the church hall and trophy before it disappeared. The caper was the focus of international news and an intense police hunt.

It would take Pickles, a mixed-breed male Collie with a nose for crime, and his owner David Corbett to break the case wide open. 
‍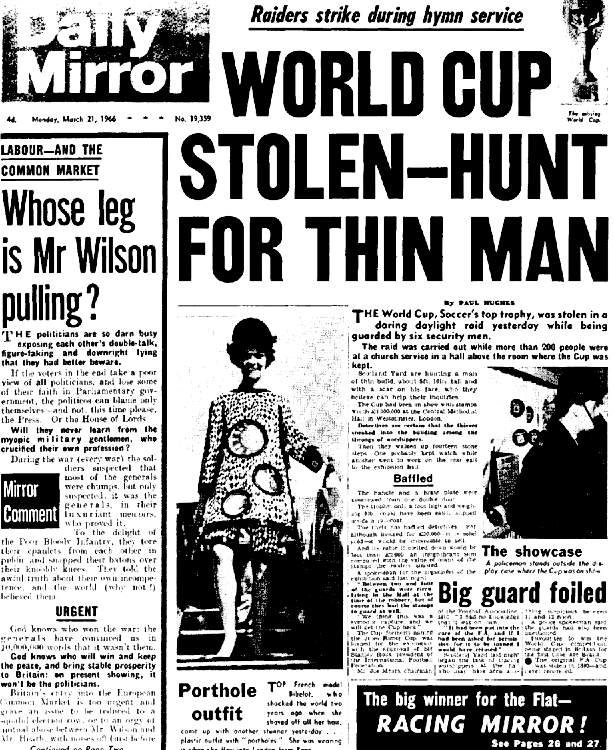 ‍
The case of the missing FIFA trophy

"It is amazing really," Corbett told FIFA in 2022. Pickles' owner is still contacted by journalists every four years to repeat the details. "People remember the dog; they don't remember me!"
The facts are as follows: 
With the eighth FIFA World Cup due to kick off in England in July 1966, the trophy was proudly on display at Methodist Central Hall in Westminster, London, not far from Big Ben and the Houses of Parliament.
FIFA attached conditions to loaning the trophy: the statue had to be transported by a reputable security firm; it should be held in a locked glass case guarded 24 hours a day, and; it was to be insured for no less than £30,000. While the trophy was valued at a fraction of that, it was surrounded by stamps worth £3m.
At some point between 11 am and 12:10 pm - with a church service on the floor below and the guards on a tea break - a thief (or thieves) broke in through the back door and left with the prize. Scotland Yard issued a description of a suspect that would make Agatha Christie proud: a thin male in his 30s with slicked black hair and a possible scar on the right of his face.

FA chairman Joe Mears soon received a ransom note and a threat. "Dear Joe Kno [sic] doubt you view with very much concern the loss of the World Cup... To me, it is only so much scrap gold. If I don't hear from you by Thursday or Friday at the latest I assume it's one for the POT." Rather than see the trophy melted into gold bars, Mears swung into action.
‍