This is probably the second most famous Bond car after the legendary Aston Martin DB5. An Esprit featured as 007's hero car in two Bond films – The Spy Who Loved Me (1977) and For Your Eyes Only (1981). To put it mildly, it made quite a splash.
In the earlier film, an Esprit S1 is involved in one of the best car chases in Bond history. It's pursued first by a motorcyclist armed with a rocket-powered sidecar. Then a Ford Taunus takes over, the baddies – including arch-villain Jaws – firing unsuccessfully. After they're outwitted by Bond, the white Esprit is chased by a machine gun-firing helicopter. So far, so routine 007. When Roger Moore, as Bond, charges off a pier into the sea to escape the chopper, the stunt magic really sets in.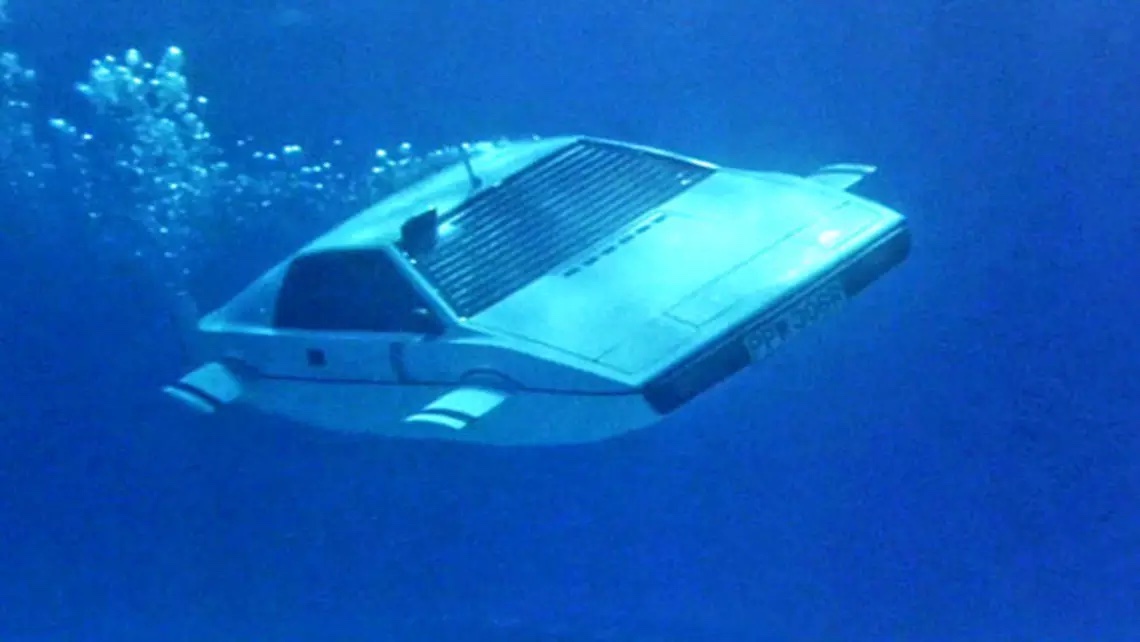 The Esprit is transformed into a submarine and soon takes out the helicopter, firing an undersea-launched missile. But just when Bond thinks he can relax, he's pursued by torpedo-firing frogmen and then by an armed mini submarine. Predictably, he emerges triumphant, as he surfaces on a Sardinian beach, the Lotus now transforming back into a car to the astonishment of holiday makers.
A semi-functioning Lotus Esprit submersible really was built for the film at a cost of supposedly $100,000 – a lot of money in 1977. Four electric propellers were fitted to the Esprit's retractable rear tray, each with steering vanes. The adjustable fins extending from the bodywork acted as stabilizers. There was no reverse thrust and no other way of braking, so piloting it must have been a challenge. The job went to a retired Navy SEAL.
Nicknamed Wet Nellie, the submersible Esprit was initially kept, unloved, in storage in New York before being sold for $100. In 2013, it was auctioned in London and sold for $1 million to Elon Musk.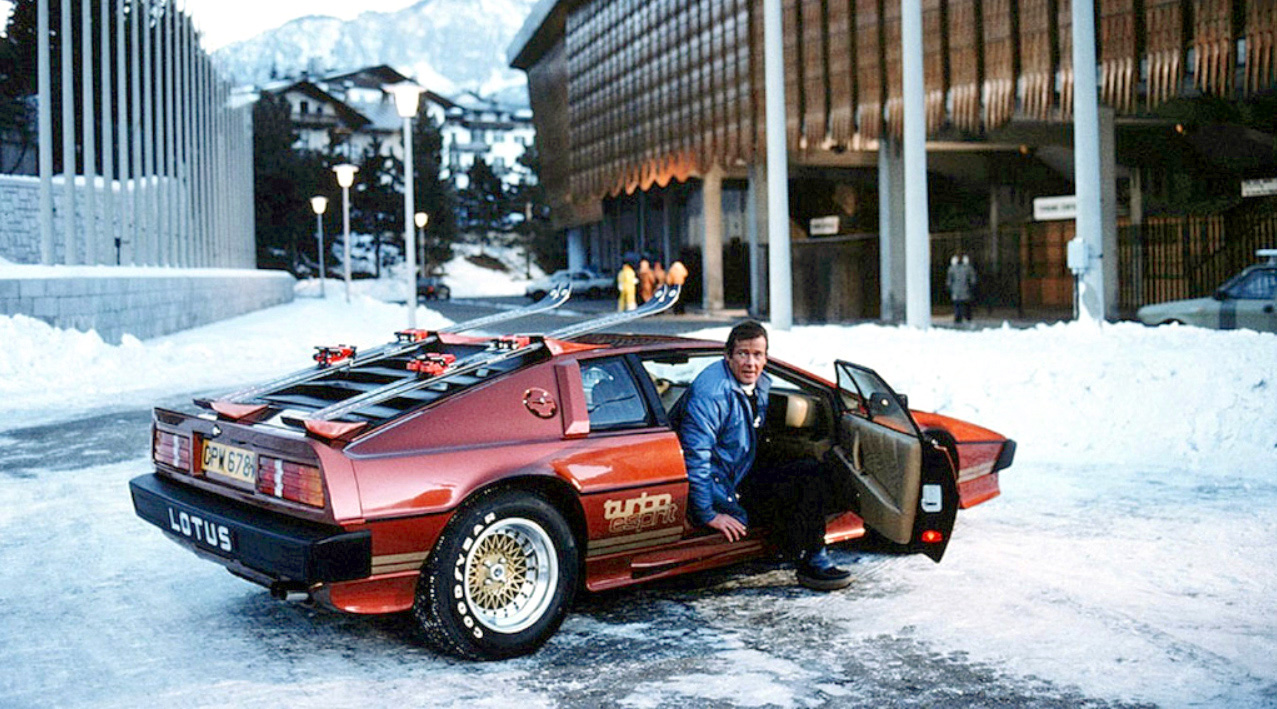 An Esprit makes a welcome if less ambitious return in the next-but-one Bond film, For Your Eyes Only. This time it's the latest and more powerful Esprit Turbo model. Two are featured. The first white car self-destructs when a villain tries to smash its window, ignoring the 'Burglar Protected' sign. He comes to the same explosive end as the car. Bond – Roger Moore again – is given a replacement Esprit to drive to the ritzy ski resort of Cortina d'Ampezzo in the Italian Alps. A white car was initially selected. The crew decided a dark color would contrast better with the snowy backdrop, so Lotus did a quick respray.
The spectacularly styled wedge-shaped Esprit received a huge publicity boost from its Bond association, especially from The Spy Who Loved Me. It had just gone on sale when the movie premiered. The more powerful Turbo version hit the road in 1980, just before it took to the screen in For Your Eyes Only. The movie actually featured the new Turbo S3 version, whose 1981 launch coincided with the film.
An Esprit never featured as 007's car again. Bond's car of choice briefly veered to BMW before happily returning to Aston Martin. The Esprit kept on picking up starring roles, from Richard Gere's car in Pretty Woman to Sharon Stone's transport in Basic Instinct. Production finished in 2004 and it remains Lotus's most famous car, in large part due to its popularity from the Bond films.
‍