Prosecutors accuse two NYC residents of conspiring with China's government and destroying electronic evidence, but are the US allegations just the tip of the iceberg?

Ireland's Foreign Affairs ministry moved quickly when authorities discovered a Chinese 'police service station' operating in Dublin without permission, ordering it to close in October 2022. Two months later, Dutch Foreign Minister Wopke Hoekstra said the Netherlands had also ordered two 'Illegal and secret' police stations run by China to shut down.

The FBI's arrest of two New Yorkers running a Chinese police station in lower Manhattan - allegedly tied to the Fuzhou Municipal Public Security Bureau - puts Beijing's 'outposts' in a new, criminal light. Chen Jinping and 'Harry' Lu Jianwang were charged on April 17, 2023, with obstructing justice and conspiring to act as agents of the Chinese government. The US Justice Department accuses them of intimidating Chinese dissidents in America on China's behalf.
China's Foreign Affairs Ministry has said that its 'outposts' simply help citizens abroad deal with administrative work such as renewing driving licenses following the disruption of the Covid-19 outbreak. Furthermore, China's Ministry of Foreign Affairs told CNN that allegations of wrongdoing were smear tactics: "We hope that relevant parties stop hyping it up to create tensions. Using this as a pretext to smear China is unacceptable."
‍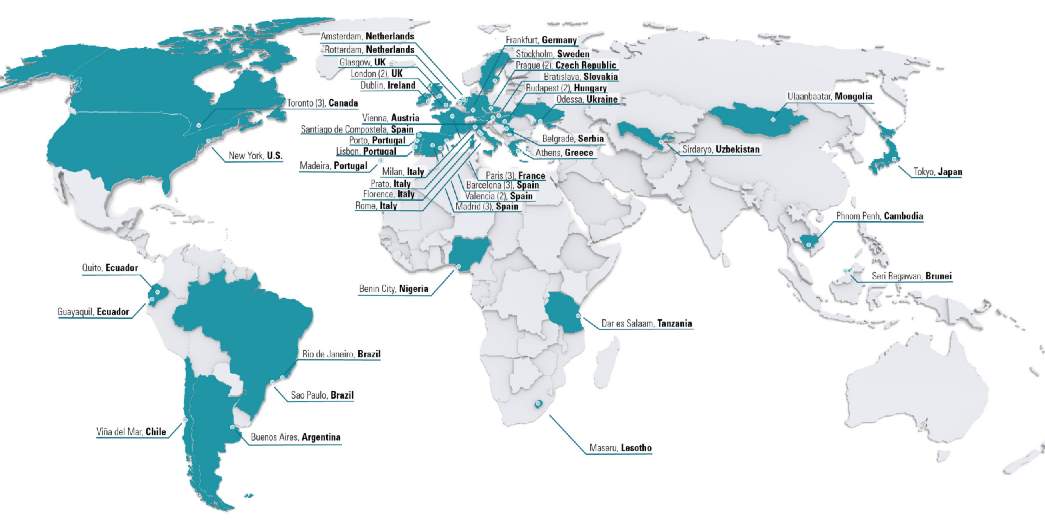 A network of secretive outposts‍
A report by Madrid-based human rights group Safeguard Defenders said the Chinese stations are part of a worldwide network of more than 100 overseas law enforcement offices operating in 53 countries, some of which have been known to 'persuade' Chinese emigrants to return home, sometimes to face criminal charges.
While Canada's Royal Canadian Mounted Police and other international forces are still investigating the outposts, some governments have welcomed China's assistance. Italy, for example, hosts the largest number of 'shadow' police stations worldwide, and established two European 'pilot' stations in Milan in 2016 (by Wenzhou police) and in 2018 (by Qingtian police), according to the NGO Safeguard Defenders.
In Spain, however, where China has nine outposts, Safeguard Defenders claims the Madrid station has ties to illegal policing: "Evidence from the Chinese government itself now shows that one station in Madrid has been actively working with Chinese police to engage in covert and illegal policing operations in Spain."

While the exact number of outposts worldwide are not known, the NGO said it has uncovered 110 overseas police 'service stations' so far.

"This is yet another example of President Xi's aggressive, whole-of-government approach regarding China's projection of power diplomatically, politically, economically, militarily and in the realm of intelligence," said Dr. Kenneth Dekleva, a SPYEX consultant and senior fellow at the George W.H. Bush Foundation for US-China relations. "It is impressive, probing responses - similar to the balloon - and very forward-leaning, in part because it combines both hard power and soft power projection. It is a sustained, long-term, strategic approach, which makes Xi and China a formidable adversary."


China's Policing in Central and Eastern Europe‍
China struck joint police patrol agreements with Croatia and Serbia as part of its Belt and Road Initiative in 2018/19, so why has it taken the world so long to wake up to policing 'outposts' as a potential security concern? Here's Dr. Kenneth Dekleva's view:

"These agreements are of great interest, not only because of the power projection (noted above) but because of their location - also in Hungary - in eastern and Central Europe, which is a very important political/economic/ideological battleground between autocracy and democracy, as well as the future of the EU and its leadership.

"Xi and China correctly see that part of Europe as being of value to their overall strategy, hence those countries' inclusion in the Belt and Road Initiative (BRI). Western critiques or downplaying of the BRI as mere debt-trap diplomacy may be true, but should be stated with caution, as China continues to adapt and improve the conditions of its BRI and appeal to nations such as Serbia, Croatia, and Hungary, which desire to have the best of both worlds and are less willing to take sides between America and China (or Russia).

"The key element isn't Serbia, Hungary, or Croatia, but, once the war ends, Ukraine. President Xi is likely to make that phone call with Ukraine's President Zelenskyy, but at a time of Xi's choosing and when it suits China's strategic design. And Ukraine's eventually joining the BRI as another strategic hedge against Russia would not be a surprise either. This is a game that Xi and China continue to play very well."