‍La Scuola Italiana Cani Salvataggio is the only rescue dog school in the world to train dogs and handlers in the most spectacular water rescue technique of all: helicopter dives. 
‍
‍
Newfoundland dogs and canine lifeguards

When Italian Naval Commander Ferruccio Pilenga's daughter was small, she ran into difficulty while swimming in a lake. She thrashed around, almost drowning until Ferruccio's Newfoundland dog, Massina, swam out and helped her back to shore. 
It was then that Ferruccio, a retired Italian Navy commander, had an idea: why not train Newfoundlands to become canine lifeguards? 
‍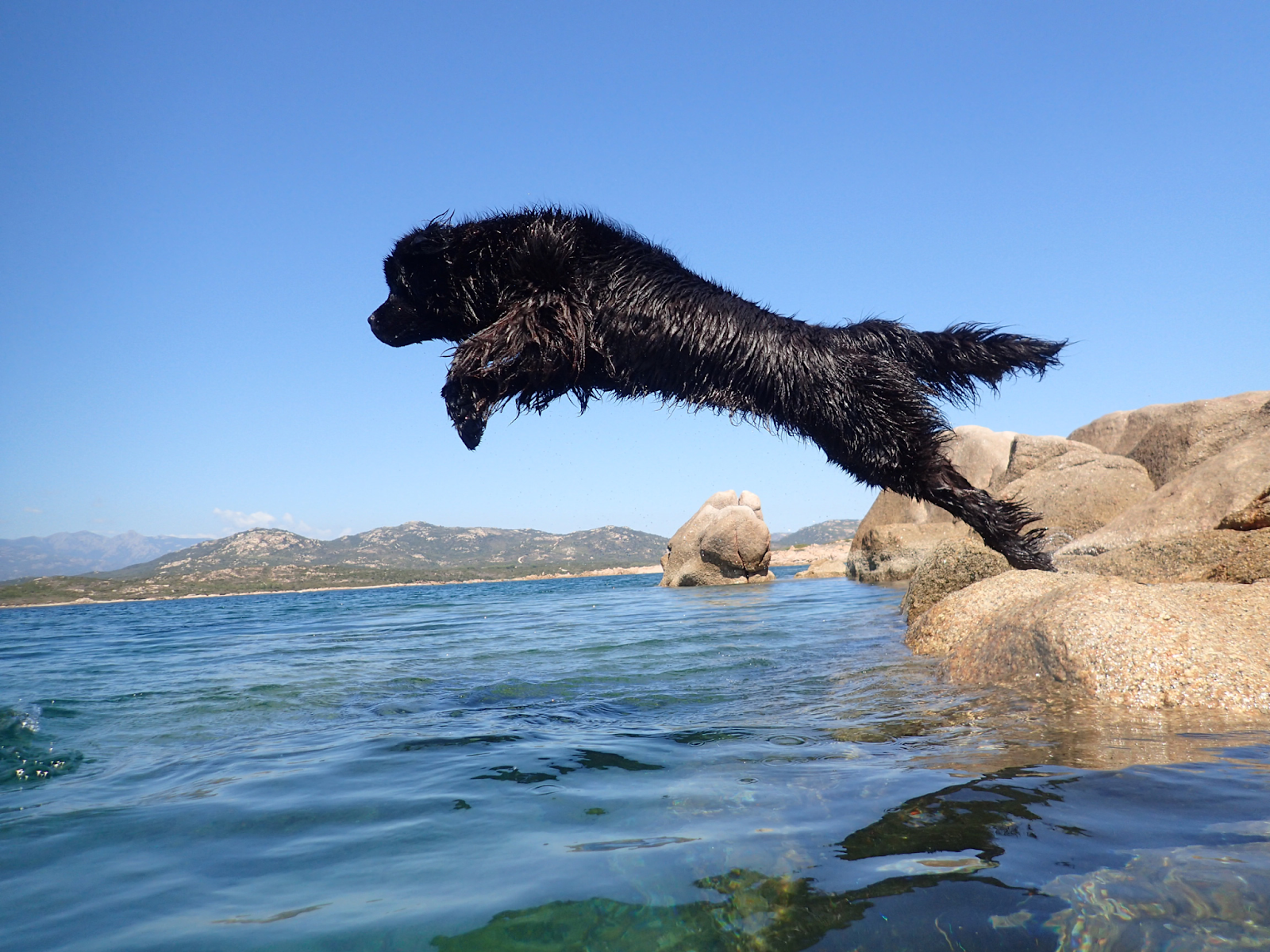 ‍
Doggie lifeguards‍
He started by training 'Mas', as he calls her. "She pulled a water-filled dinghy with three people on board for half an hour," Ferruccio told journalists. In 1989, Ferruccio then set up the Italian Rescue Dog School La Scuola Italiana Cani Salvataggio (SICS) near Milan. Now, more than 30 years after Mas rescued Ferruccio's young daughter, dogs from the school are saving lives on beaches and lakes across Italy, jumping from coast guard boats and helicopters and dragging dinghies to safety. 
Ferruccio's international course has trained dogs working in the US, Germany, Switzerland, the Canaries, and the Azores, and there are plans to open a chain of schools in more countries. From Lake Como to Puget Sound, what is it that makes the canines of the Italian School of Rescue Dogs so special?

The majority of the school's lifeguard dogs tare Newfoundlands, or 'Newfies,' the legendary working dogs bred by the fishermen of Newfoundland, Canada. These shaggy giants can weigh up to 150 pounds and stand 28 inches at the shoulder, making them one of the largest of all dog breeds. They are loving, trusting, and great with kids: true gentle giants. 
They are also almost uniquely well-suited for water, which they love. Their coat has an oily, water resistant quality and their paws are webbed. Unlike other dogs, they don't doggie paddle. They have their own form of canine breast stroke making them exceptionally strong swimmers. 
‍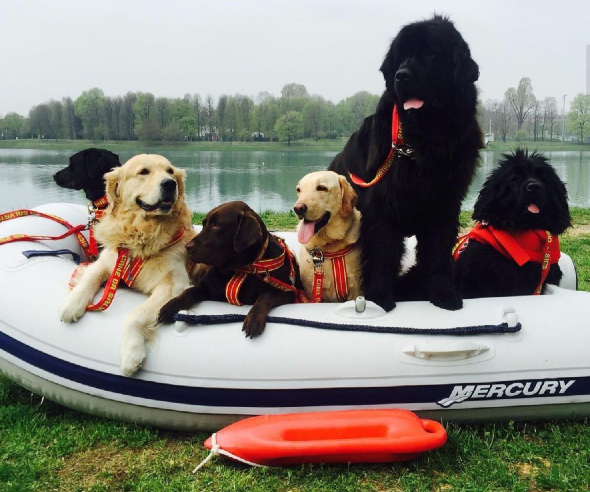 ‍
SICS gives 'rescue dogs' a whole new meaning
Newfoundland fishermen used them to drag their nets and soon discovered that the dogs had a strong instinct to rescue people who had fallen overboard.

Stories of their life saving prowess are the stuff of legend. Perhaps the most famous is the rescue of the crew and passengers of The Despatch (sometimes spelled Dispatch), a brig full of Irish immigrants bound from Londonderry to Quebec which was shipwrecked off the coast of Isle aux Mort, Newfoundland in 1828. A 17-year-old Canadian girl Ann Harvey, her 12-year-old brother, father George, and a Newfie called Hairy Man, are credited with using their fishing boat to help rescue more than 160 men, women and children from the shipwrecked vessel.

"The whole of these unfortunate people, we learn, were in comfortable circumstances, one of whom, a Scotchman, had property to the amount of £500 on board, and he is now left with a family of 13 children, entirely destitute; indeed all that any of them have saved are a few clothes which were washed on shore," the Acadian Recorder reported.
To honour their heroic efforts, the Governor of Newfoundland, Sir Thomas Cochrane, gave George Harvey £100 sterling and a gold medal.
A Newfie even reportedly rescued Napoleon Bonaparte when, during his escape from the Isle of Elba in 1815, he fell overboard in rough seas, according to Tiffin Shewmake's Canine Courage. So when Ferruccio saw Mas save his daughter from drowning, he was witnessing a Newfie doing what the breed had done countless times before: proving itself to be a natural water rescue dog. 
‍
‍
‍US Lifeguard Dogs to the Rescue
A 16-month-old Newfoundland named Beacon is on guard at Maine's Scarborough Beach State Park and Beacon's owner, Greg Wilfert (who also happens to be a lifeguard), is working to train more shaggy guards.
‍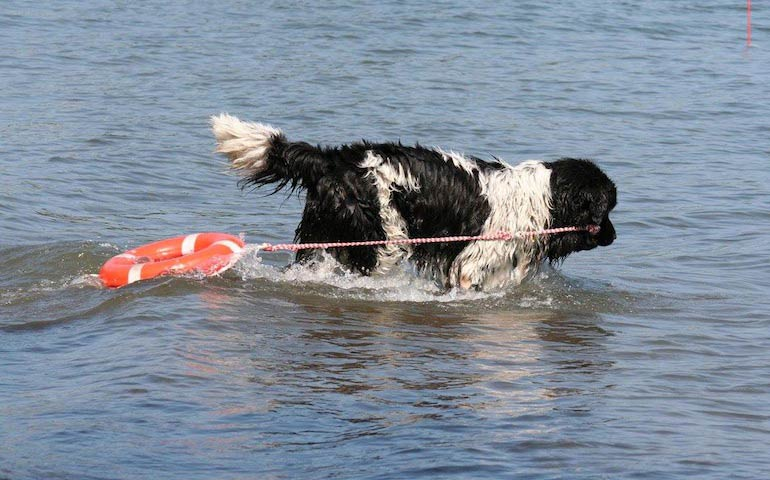 American lifeguard dog training
Dog lifeguard training began when Beacon was a 12-week-old puppy greeting the public at the park. At five months old, Beacon began her formal training, much of it with the American Academy of Canine Water Rescue. Beacon shows a natural aptitude and interest in being a water rescue dog.

Historically, Newfoundlands were bred to pull fishing nets and boats but their natural swimming ability makes this breed a natural choice for the AACWR. Their triple coat - with a layer like goose down and an outer coarser layer of fur - helps their skin to stay relatively dry and allows them to swim in very cold water. Like other rescue teams, the Academy trained with SICS.