Meta's Threads app signed up more than 30m users within hours of its launch in July 2023 but not in the European Union where there is fear the app will devour Instagram users' data including their location, search history, and even details about their jobs and performance reviews.
‍
EU data privacy rules are stricter than those in the US and UK, so Meta faces a higher hurdle in a key market where an estimated 457m use Facebook and 280m have Instagram accounts.

‍TechCrunch said Threads "already looks like a privacy nightmare" and "may collect highly sensitive information about users in order to profile their digital activity - including health and financial data, precise location, browsing history, contacts, search history, and other sensitive information". 
According to Threads' Privacy Policy, dated April 17, 2023, Meta is also collecting information about users' jobs - even their performance evaluations - and work history. Quartz reports that Threads is also interested in sexual orientation, race and ethnicity, biometric data, trade union membership, pregnancy status, politics, and religious beliefs, which it may send to "service providers" and "analytics partners" which might include third-party ad and marketing firms.
Facebook founder Mark Zuckerberg said the company wants to create a 'positive space': "Our vision with Threads is to take what Instagram does best and expand that to text," Meta said in a statement posted on Instagram, "creating a positive and creative space to express your ideas." 


Threads Privacy Policy as of April, 17, 2023
‍‍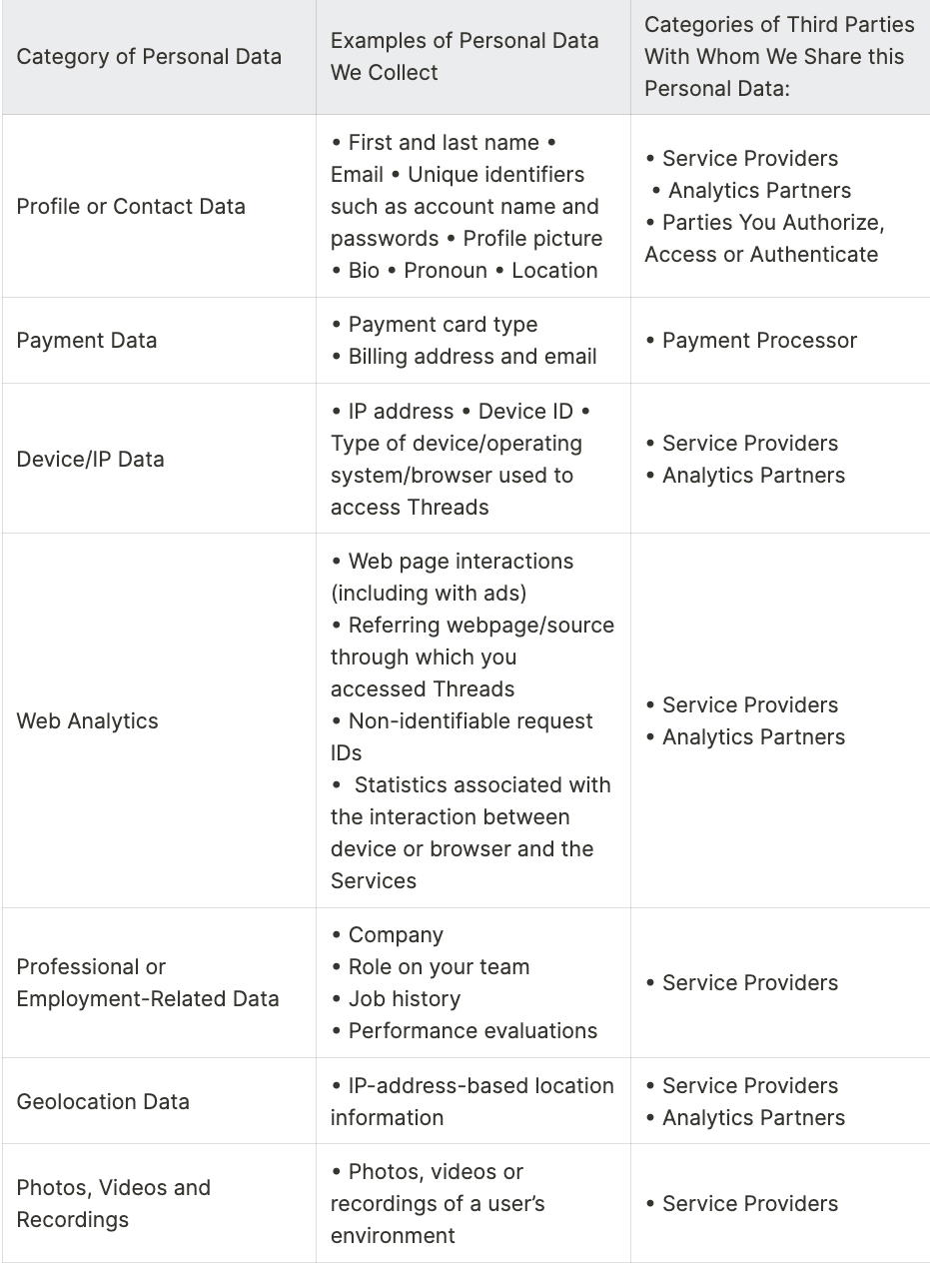 ‍
Zuckerberg vs Musk
Zuckerberg, who hasn't Tweeted since 2012, posted a popular Spider-Man meme on Twitter to mark the launch of Threads which featured two people pointing at each other in accusation.
Musk responded a day later with the threat of a lawsuit against Meta claiming Threads is a "copycat" platform built by hiring former Twitter staff. Meta fired back saying none of the staff working on the Threads app are former Twitter employees.

‍