‍Wonder Woman creator William Moulton Marston was a Harvard-educated lawyer, psychologist, and the inventor of the lie detector but it was his superhero in red boots that set America's imagination on fire.
Inspired by suffragists and centerfolds, Wonder Woman challenged male-dominated comic books and reigning superheroes Batman and Superman when she burst onto the scene in 1941 to become the most popular female comic book hero of all time. Wonder Woman was a dichotomy - a strong woman who reflected her creator's interest in the female suffrage movement as well as his penchant for pin-up beauties.
"Is this a feminist project that's supposed to help girls decide to go to college and have careers or is this just like soft porn?" asked Jill Lepore, author of The Secret History of Wonder Woman.

Both, it seemed, and audiences couldn't get enough after Wonder Woman appeared in All Star Comics #8 in 1941.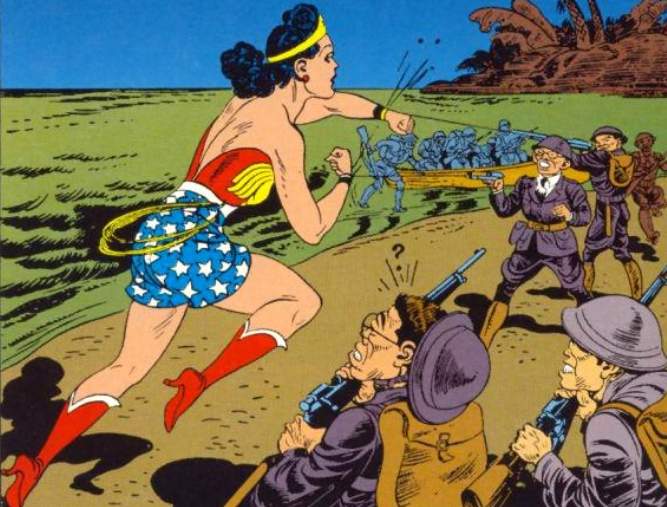 ‍
Wonder Woman's backstory‍
The bustier-and-boots fashion icon lived on female-only Paradise Island to escape male enslavement, according to her comic book backstory. The Island is home to female warriors known as the Amazons.

Unfortunately for the islanders, a military intelligence officer - Steve Trevor (aka Steve Howard) - ejects from his burning plane and disrupts the island's calm. Wonder Woman flies him home in her invisible jet and it turns out the pilots have a lot in common.

The US Air Force Colonel and sometimes astronaut works for the covert S.O.S. (Spy-on-Spy) organization alongside Major Diana Prince (aka Wonder Woman) at Military Intelligence HQ. She calls him 'hot shot'. He calls her 'angel'.

In addition to her invisible jet and killer heels, Wonder Woman also has a few weapons including bullet-stopping bracelets and a magic golden lasso so she can rope people into telling the truth. (Marston had a fascination with lies and the truth throughout his career.)
‍