Like most secret agents, SPYSCAPE scours the world searching for intrigue and adventure. 
We've found it in far-flung places with some of our favorite writers like Tatsuya Endo, author of the Japanese manga Spy x Family series, and June Hur, the South Korean-born author of The Red Palace.

We've also found amazing novels closer to home so read on for our 15 top spy, secrets, and superhero novels to keep you in the know.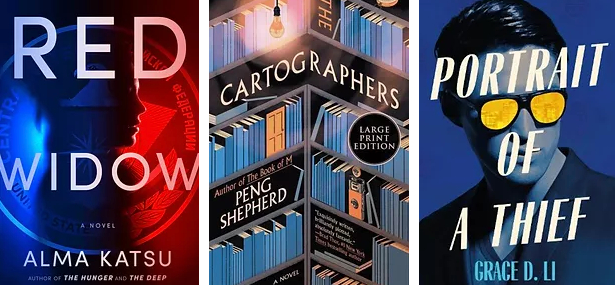 ‍
Alma Katsu's Red Widow 
CIA agent Theresa Warner can't avoid the spotlight in Red Widow. She is the infamous 'Red Widow', the wife of a former director killed in the field under mysterious circumstances. Also, don't miss Katsu's The Fervor about a mysterious disease spreading through a Japanese American internment camp in WWII.
Peng Shepard's The Cartographers
‍Perfect for lovers of The Book of M, Peng Shepard's The Cartographers is a thriller about a young woman who discovers that a strange map that once belonged to her deceased father holds an incredible, deadly secret - one that will lead her on an extraordinary adventure and to the truth about her family's dark history.
Grace D. Li's Portrait of a Thief
‍A heist novel inspired by the true story, Grace D. Li's Portrait of a Thief involves Chinese art and Will Chen, a senior at Harvard who is contacted by a mysterious benefactor who reaches out to him with an impossible - and illegal - job offer. Will soon finds himself leading a heist to steal back priceless sculptures looted from Beijing, along with hacker Alex Huang, an MIT dropout. Can they pull it off?
‍