Stunt performers are Hollywood's shadow heroes, the backbone of action thrillers who straddle the line between bravery and insanity. Here are 10 of the top - with a few secrets spilled along the slippery, exploding path ahead.
‍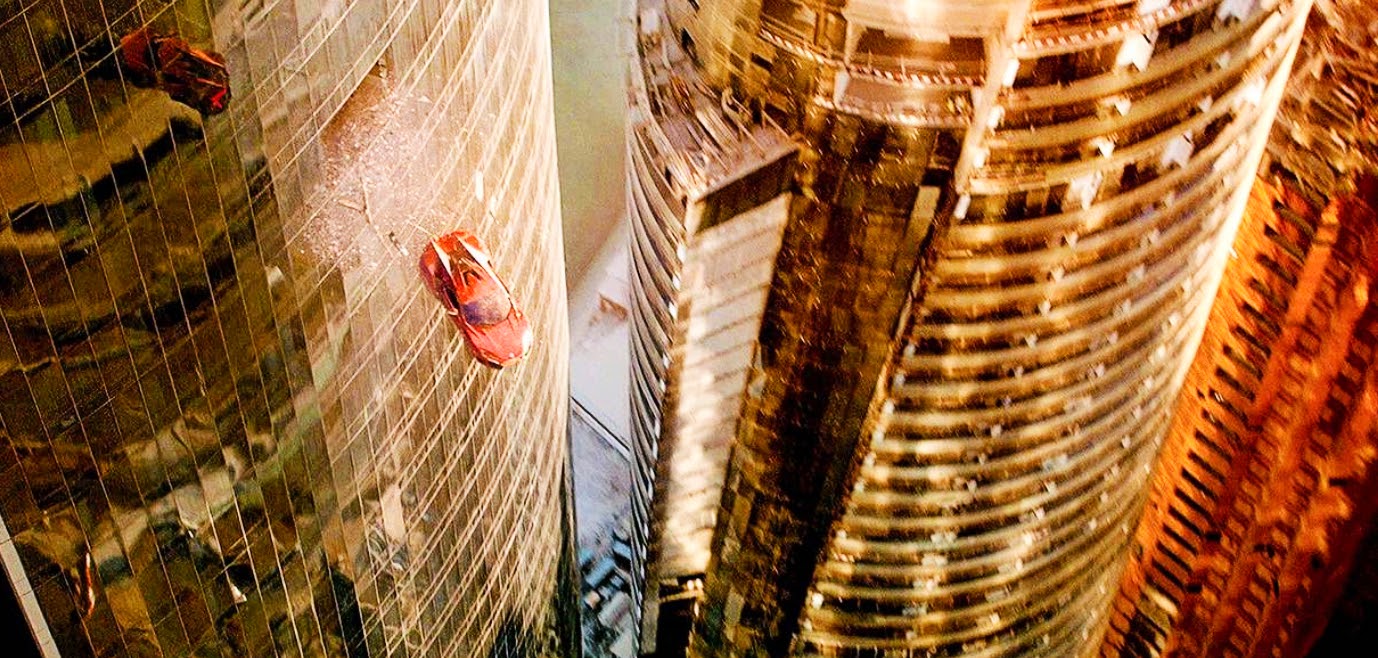 Fast & Furious franchise
One of the most exciting Fast & Furious franchise stunt sequences has to be the skyscraper jump in Furious 7. Dom (Vin Diesel) and Brian (Paul Walker) steal a Lykan HyperSport car while in the tower, crash it into a nearby building then smash into a third tower. How did they do it? The crew actually did throw a stunt car out of a window (there were 10 cars in all) but nobody flew through buildings. Stunt coordinator Andy Gill said they built multiple 40-foot tall glass and steel enclosures on a soundstage, so a driver could smash through glass walls. The rest was CGI and special effects. Awesome x 7.


‍

Charlie's Angels
Shauna Duggins' first big-action stunt was hanging off a helicopter in Charlie's Angels: "I'm 20 years old and I'm told, 'Hey, just hang from the skid, drop down from your knees, catch Lucy Liu's character and you're safetied off,'" Duggins said. She won the World Stunt Award for her aerial work and hasn't looked back. Duggins has been blown away with Robert Downey Jr in Iron Man 3 and worked as Jennifer Garner's longtime stunt double on Alias, among her many other gigs. She's also the first female Emmy-Winning stunt coordinator and has now turned to directing.


‍
007 Stuntman Bobby Holland Hanton
When Daniel Craig's 007 stuntman Bobby Holland Hanton dived into a Ford B-Max the world held its breath. Hanton was dropped from 32 feet above the car at full speed knowing the wind could throw him off course. "Dude, I'm not going to lie. It was hairy," Hanton later said. It made the rest of his movie work seem tame in comparison - almost. This is a man who jumped between balconies without a safety net in Quantum of Solace and was set on fire in Game of Thrones. In Batman: Dark Knight Rises, Hanton performed a 100-foot freefall where he was caught by a cable. "I remember swinging into the wall headfirst and crunching my neck," Hanson recalled, but he was still happy to check the stunt off his bucket list.


‍

Wonder Woman stunt woman Caitlin Dechelle
A martial artist from the age of six, 007 Stuntman Bobby Holland Hanton She actually has an incredible 95 martial arts world titles to her name. "I learned sword in my first style: Chinese Kenpom," Dechelle said. "My favorite martial arts trick is a webster (an aerial one-footed forward somersault)." Dechelle is so talented Jackie Chan sought her out to act in Chinese Zodiac. Dechelle also doubled for Ronda Rousey in Fast & Furious 7 - you may have seen her flying over the balcony and crashing into the DJ booth. "It was a really cool stunt to do," she said. 
‍

Ross Kananga's Live and Let Die jump
Ross Kananga certainly earned his $60,000 fee (about $500,000 in today's money!) for a death-defying crocodile walk in Live and Let Die (1973). He finally nailed the crossing after five terrifying takes. The 007 team stumbled across Kananga's farm while filming in Jamaica, intrigued by his welcome sign: "Trespassers Will Be Eaten". Sure enough, one of the crocodiles went straight for Roger Moore. "Well, gunshots went off. Ross Kananga himself got in," recalled Jane Seymour who played Bond's Solitaire.
‍

GoldenEye's record-breaking bungee jump
As 007 stunts go, no list would be complete without the incredible bungee jump of more than 220 m (759 ft) in GoldenEye (1995). It was performed by legendary British stuntman Wayne Michaels who took two weeks to prepare for the six-camera jump. Michaels had to plunge from a suspended platform to avoid banging into the steel pegs studded along the face of the dam (yeow!). The jump, captured in one take, set a world record at the time. "It's pushing the limits of what can physically be done," Wayne told the BBC. Bravo!